"This book reads them [photographs] in a manner that presents a new way to write history – history through photographs."
When I was in London a few months ago, I had the good fortune to see an exhibition of the photos and text in this book at the Qattan Foundation in Earl´s Court. This book reproduced both the photos & text and the impact of these images and the explanatory words is just as powerful as the exhibition.
This is a graphic document of the transformation of one country into another; a transformation marked by treachery, killing, destruction and ultimately the exile of nearly a million people. An event that would seem to be earth shaking except that it happened with few tremors, almost total acceptance or indifference by most of the world and the active connivance of some global powers. Most of Palestine in 1947–48 disappeared to become Israel, a new nation hailed by many as a bastion of democracy and western values.
Azoulay is an Israeli academic and writer, her particular interest is the political significance of photography; this book was originally published in Hebrew. In the book she studies photographs of what is called ´the Nakba´ (the catastrophe) by Palestinians; she found most of the images in official Israeli government collections, a few are by unidentified or Palestinian photographers.
She writes in her thoughtful introduction that, "The Transformation of Palestine into the State of Israel was not achieved by an unavoidable war between two nations, but by the exercise of systematic and planned violence to create a clear Jewish majority that would correspond to and justify the formation of a Jewish state and the Jew–ification of the state organs."
The photos show the steady course of theft and dispossession; they also show the acceptance of the Nakba by international governments and institutions and indeed, their active collaboration.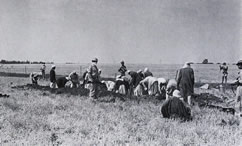 A German who viewed the photographs with me commented that the Nazi also made a systematic document of their inhumanity; this record was used, 5 years later to show the cruelty of the Nazis, but these photos from more than 60 years ago display a globally supported pride in an inhuman process. Several of the photographs and their text are particularly chilling in this context. Photo #202 shows a British soldier watching calmly as Palestinian women are loaded into freight cars of a waiting train in Haifa. Photo #207 of Afula (reproduced here) shows a group of Palestinian men, guarded by soldiers with face masks, digging a large pit in a field. The author writes that this photo in the IDF (Israel Defence Force) archive bears the caption:"Arab citizens harvesting crops in the field. Haganah members guard them."  No amount of false description can change the photographic fact, these men are digging a pit and also present is something that makes the soldiers have face masks.
Every photo has a powerful story to tell and Azoulay leads us through each one, making us aware of exactly what the photo portrays. Photography in the days before photo shop and image–altering techniques is a true and revealing archive of history. She expresses the hope that her revelations can serve not only to inform but to create a new human transformation: "Narrating the past through such an archive, we can recognize, imagine or invent the unavoidable seeds of a future, a possible future where forgiveness can be asked as an invitation to restore together a universal threshold of what is unbearable, of what should be done, what should not be violated."