"We´re here at the gates of hell/ in the hills of Scotland…singing hope into life."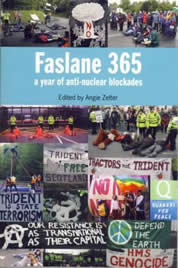 This amazing book is a political treatise, personal journals, lively commentary, an invaluable history and a guidebook to sustained activism, all in one volume. This is a work to be read and consulted for many years by activists everywhere.
Activist Angie Zelter and her friends contemplated the weakening of the UK peace movement and its lack of energy in 2005. Instead of moaning and hand wringing they created an ambitious plan to galvanize British activists. They came up with the idea to blockade Faslane in Scotland for 365 days with 100 blockaders at the gates of this base every day.
For readers not so familiar with the UK scene, Faslane, fifty kilometres from Glasgow, is the naval base where the UK military keeps nuclear powered submarines, equipped with Trident missiles and up to 200 nuclear warheads — each can deliver about eight times the destructive power of the bombs that flattened Hiroshima and Nagasaki.
Although this is a specific location in a specific culture, the lessons taught by this action can be applied universally and can inspire any peace activist or group. Zelter makes the connections when she states, "…it is the necessity to have compassion for all people and all living things…" She describes many of the issues facing the world and says, "All of these issues at their heart are about real security." All relate to our acceptance of the ultimate destruction weapon — the nuclear bomb. For one year wonderfully diverse groups of people concerned with real security blockaded a base that represents to Scotland, Britain and the world, death and destruction; an epicentre of appalling insecurity.
The organizers drew up guidelines to ensure real non—violence that included not only the, no weapons, no non—medical drugs and no violent behaviour, but required an attitude of respect and sincerity to all those their actions encountered; the key to any successful peace action and its transformative value.
The book has poetry, art, photographs, vivid personal stories of meetings with local people, school children, politicians; accounts of academic seminars, encounters with both police and the military. It has chapters on asylum seekers, the law, health issues, the many groups that participated and personal reflections. Informative appendices add to its value. Faslane 365 is gripping and lively reading.
The blockade ended on October 1, 2007. Faslane still exists but this campaign brought national and world attention to
this dangerous place; the blockade and all its events inspire and inform activism everywhere. It is too soon to quit and too early to ever give up: the spirit of the Faslane Blockade lives!