Review and author photo by Theresa Wolfwood
Classified as Juvenile Non-Fiction, this graphic novel is a recommended read for Canadians of all ages. Wong chose the graphic technique not only because he has always loved drawing cartoons, but also because this comic strip technique appeals to teenagers, his preferred readers. At a reading and talk during the Cumberland Miners' Memorial in June, 2013, Wong said he wanted young people to understand the history of Chinese people in Canada and the USA; I found the book enlightening and engrossing; it presents history in a straight forward and readable way that adults also will be informed and reminded of past injustices. I recommend it to readers of all ages.
Through his lively cartoon style Wong tells the story of thousands of desperately poor Chinese immigrants you came to North America to find what was known as "Gold Mountain" on the distant continent that took 3-4 months to reach from the home region of most immigrants, the Pearl River delta. The immigrants did not have countries in mind, so this book needs must cover both USA and Canada and as Wong points out, "racism knows no boundaries" either. The facts, sometimes horrific, are presented clearly without embellishment – they speak volumes of the history of racism and cruelty practised upon a group of people who provided the back breaking labour needed to build Canada – railways, fish factories, farms, construction, mining and other demanding industries.
The story moves quickly through the generations, as descendants of these immigrants make Canada their home and contributed to community life, in spite of official racist policies. Wong involves the reader in stories of families and individuals; within the accounts of the many injustices inflicted on the Chinese, there is much humour and warmth in the book.
Wong's original title was "The Iron Chink", the machine invented to process salmon that the inventor boasted could replace 40 "Chinks" as Chinese people were called. Later it was modified to replace even more workers and thousands were thrown out of work. This title was deemed to be "racist' which was the whole point, but it did not make it to the cover page.
From a history of purges, massacres, head taxes, discrimination at all levels, including universities, the Chinese persevered and worked for their rights and dignity. Until WW2 with Japan, Chinese were not allowed Canadian citizenship. Finally Chinese people have their rightful place in society with scholars, scientists, merchants, activists, creative artists, politicians, working at many levels but still some of the old racism exists.  I have heard 1st generation immigrants from Europe complaining about the Chinese many times, even if there are no overt policies of discrimination now.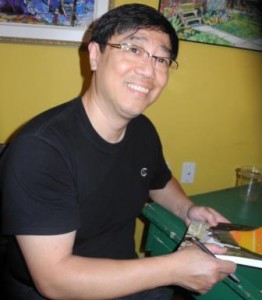 This book is a lesson in persistence, goodwill and cultural diversity; today's young people and adults will read this book and realize we still have a long way to go in this country to create equality – even as our government is promoting inequality at an increasing pace.
When Wong was speaking I thought to myself that he is probably 4th generation Canadian and that, most of the people in the room, including myself, were barely 1st generation. Wong is a successful architect in Vancouver and active in cultural life there. See his websites: www.generaisian.ca  and www.UglyChinese-Canadian.com